'Why I Refused Arsenal and Tottenham Offer for 2014 W/Cup' – Vincent Enyeama Reveals
'Why I Refused Arsenal and Tottenham Offer for 2014 W/Cup' – Vincent Enyeama Reveals
Former Super Eagles goalkeeper, Vincent Enyeama, has revealed the reason he refused signing for Arsenal and Tottenham while he was at the peak of his career.
Enyeama, a Nations cup winner with Nigeria, went to Israel after leaving Nigeria, joining Bnei Yehuda in 2005 before moving to Hapoel Tel Aviv in 2007 where he spent four years.
He then went to France in 2011, spending seven years at Lille where he won the Prix Marc-Vivien Foé prize of Best African player in League 1, in 2014.
Also Read: Philppe Coutinho Wants a Return to the Premier League- Kia Joorabchian.
No Match, No League, No Competitions Until the Covid-19 Pandemic is 100% Over- FIFA
Enyeama shone for Nigeria at the 2014 World Cup with his most memorable performance the 1-0 loss to Argentina where he denied Argentina and in particular Lionel Messi several opportunities to score.
After the tournament, Arsenal reportedly wanted to sign the goalkeeper and now Enyeama says he rejected Arsenal and Tottenham because of one specific reason.
Arsenal wanted me for second choice, but I was not interested. I also had an offer from Tottenham that wanted me for second choice also and I wasn't interested; ..

Enyeama told ESPN
It was after the 2006 Nations Cup and then again around the 2014 World Cup. When I turned them down, that is when they [Arsenal] took David Ospina.
For me, I was at the stage where I preferred playing even if it was for one of the smallest teams. That is what the agents that were involved told me. That Arsene (Wenger) wanted me but he is not so sure because of my height and things like that.
People have their choices and I respect their choices.

Vincent Enyeama
Enyeama also said he wonders why he never signed for British club Bolton Wanders despite going for a trial at the club in the early 2000s.
"I am still wondering why I didn't sign. It was a trial that went so well," he continued.
"They even told me I was going to get jersey number 35. All that was left was just to do the medicals.
"I was supposed to be number three, because Bolton had two goalkeepers already, with Jussi Jaaskelainen as number one.
"But I don't regret it because it gave me the opportunity to go to Israel. I am so happy that I went to Israel because it opened doors for me."
Please follow and like us:
Odion Ighalo Joins Al Shabab Saudi FC on a permanent deal from Shanghai Shenhua
Nigerian striker, Odion Ighalo has joined Saudi Arabian side Al Shabab FC on a permanent deal Shanghai Shenhua after his loan spell at Manchester United ended last month.
The 31-year-old was penned a two-and-a-half-year deal with the King Fahd Stadium outfit having passed his medical. He will wear the number 89 shirt for the club.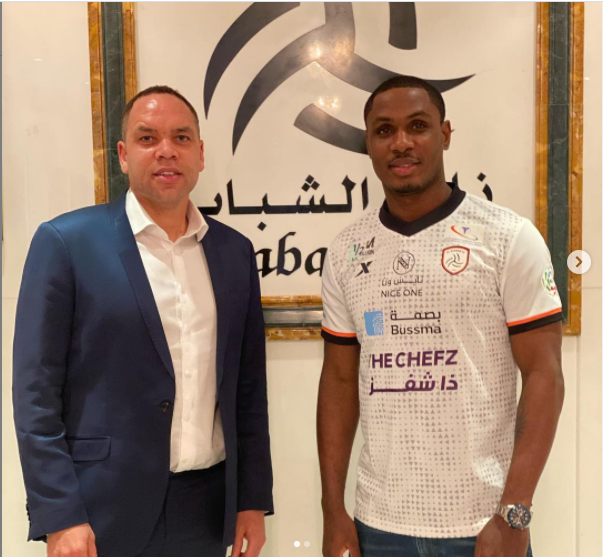 Ighalo, who joined  Shanghai Shenhua in 2019, scored 10 goals in 19 appearances for Shanghai Shenhua, helping them to the 2019 Chinese FA Cup.
The former Watford and Granada striker scored five goals in 23 appearances after arriving at Old Trafford on deadline day in January 2020 to sign for Manchester United.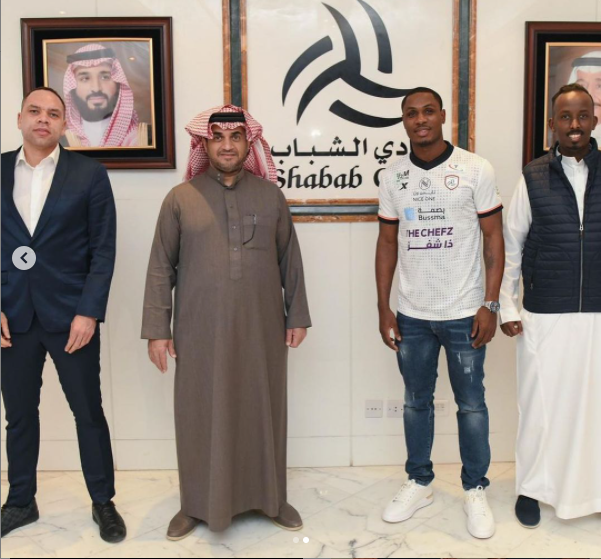 Please follow and like us:
Former Leicester and Swansea boss, Paulo Sousa named new Poland coach
Former Leicester, Swansea, and Queens Park Rangers boss, Paulo Sousa has been named Poland's new head coach.
The 50-year-old, who has been out of work since he left Bordeaux in August, replaces Jerzy Brzeczek after he was fired this week despite helping the team qualify for Euro 2020, which was postponed to this year because of the coronavirus pandemic.
Brzeczek had been in charge since July 2018 and had extended his contract in November. But the country FA said there was "discouragement" in the team under the 49-year-old Brzeczek, adding: "With this format, the team could not move forward".
Announcing the appointment of Paulo Sousa, President of the Polish Football Association, Zbigniew Boniek said: "I am convinced that the new coach of the Polish national team, thanks to his coaching class, experience, and international knowledge, will give our national team a new impulse."
"I am honoured and proud to be the coach of the Polish national team" Sousa said. "Poland is a country of football and I am convinced that your enthusiasm will give us strength, support, and faith in the representation.
"Together, we will be able to fight for victories at the European Championships.
"With the right mentality, discipline, organization, and approach, together with me, my staff, federation employees, and the support of the entire nation, we will be strong. I am sure that all of Poland will be proud of its national team."
Also Read:
Two-time Champions League winner Sousa was a regular for Portugal during his playing career and has coached in Hungary, Israel, Switzerland, Italy, and China in the last decade. He won the Champions League as a player with Juventus and Borussia Dortmund.
Please follow and like us:
Rafer Johnson, Winner of a Memorable Decathlon Is Dead
Rafer Johnson, Winner of a Memorable Decathlon Is Dead
His triumphant performance at the 1960 Olympics was his farewell to track and field. He went on to become a good-will ambassador for the United States and a close associate of the Kennedy family.
Rafer Johnson, who carried the American flag into Rome's Olympic Stadium in August 1960 as the first Black captain of a United States Olympic team and went on to win gold in a memorable decathlon duel, bringing him acclaim as the world's greatest all-around athlete, died on Wednesday at his home in the Sherman Oaks section of Los Angeles. He was 86.
Michael Roth, a family friend and spokesman, confirmed the death.
Johnson never competed after that decathlon triumph. He became a good-will ambassador for the United States and a close associate of the Kennedy family, taking a leadership role in the Special Olympics, which were championed by Eunice Kennedy Shriver, and joining Robert F. Kennedy's entourage during Kennedy's presidential campaign in 1968. He was remembered especially for helping to wrestle the senator's assassin to the ground in Los Angeles in 1968.
Johnson's national profile was largely molded at the 1960 Olympics, one of the most celebrated in the history of the Games, a moment when a host of African-American athletes burst triumphantly onto the world stage. Muhammad Ali, known then as Cassius Clay, captured boxing gold in the light-heavyweight division.
Also Read;
Wilma Rudolph swept to victory in the women's 100- and 200-meter dashes and combined with her Tennessee State teammates for gold in the 4-x-100 relay. Oscar Robertson helped take the United States basketball team to a gold medal.
Johnson's narrow decathlon victory over C.K. Yang of Taiwan and U.C.L.A., a good friend, provided a thrilling moment in its own right.
Johnson, a 25-year-old graduate of U.C.L.A. and a chiseled 6 feet 3 inches and 200 pounds, was the favorite going into the two-day decathlon, a 10-event test of versatility, strength, speed and endurance that included sprints, high hurdles, pole-vaulting, the high jump and broad jump, the javelin and discus throws, and the 1,500-meter run.
He had won silver in the decathlon at the 1956 Melbourne Olympics, finishing behind Milt Campbell of the U.S., who turned to pro football afterward. He had bested Vasily Kuznetsov of the Soviet Union at a meet at Lenin Stadium in Moscow in 1958, inspiring spectators to put aside Cold War issues and cheer his achievement. And he scored a world-record 8,683 points in the decathlon at the 1960 Olympic track and field trials in Oregon.
But he faced a stiff challenge in Rome from the 27-year-old Yang, who was representing Formosa, the Olympic designation at the time for Taiwanese athletes. Both were trained by Elvin Drake, known as Ducky, the U.C.L.A. track and field coach.
The decathlon duel was decided in its final event, the 1,500 meters, in which Yang was especially strong. Johnson, leading on points, didn't have to win the event to capture the gold medal, but he did need to finish within 10 seconds of Yang.
"I planned to stick with him like a buddy in combat," Johnson told The Los Angeles Times in 1990. "I had one other advantage, and I don't think C.K. knew this at the time. This was my last decathlon. I was prepared to run as fast as I had to in this last race of my life."
Yang, who died in 2007, recalled, "I knew he would never let go of me unless he collapsed." Johnson finished 1.2 seconds behind Yang, good enough to capture gold, with Yang getting silver and Kuznetsov capturing bronze.
Johnson later received the 1960 Sullivan Award as America's leading amateur athlete. After that, he embarked on new chapters in his life.
He met Robert Kennedy at an awards ceremony soon after the Rome Games and became part of the senator's campaign for the 1968 Democratic presidential nomination.
Please follow and like us: